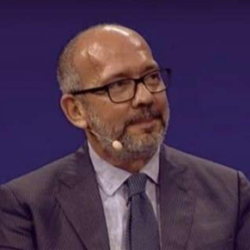 Doctor en Filosofía por la Università degli Studi di Bari (Italia) con una disertación titulada "Heidegger e Kant: 1912-1929", bajo la dirección de Ada Lamacchia. Actualmente es profesor de Historia de la Filosofía e Historia de la Metafísica en la Università degli Studi di Bari (Italia), en el Dipartimento di Ricerca e Innovazione Umanistica (DIRIUM) y en el Istituto di Studi Filosofici de la Università della Svizzera Italiana (USI) en Lugano. Desde diciembre de 2021 es Profesor Honoris Causa en el "International Institute for Hermeneutics".
Algunas de sus más recientes publicaciones son:
Il nichilismo come problema aperto del nostro tempo, (En: L'invenzione della realtà. Scienza, mito e immaginario nel dialogo tra psiche e mondo oggettivo, Edizioni ETS, 2022, pp. 509-521)
"Il nichilismo: negazione o catarsi?" (En: Rivista della Facoltà Teologica dell'Italia Settentrionale, No 47, 2022, pp. 207-232)
"Being a Problem for Myself: Remarks on the Irreducibility of Human Being", Inaugural Address as Honorary Professor at the "International Institute for Hermeneutics" (En: Analecta Hermeneutica, Vol. 14, No 2, 2022, pp. 141-155).
Il nichilismo del nostro tempo. Una cronaca (Roma, Carocci, 2021)
El nihilismo de nuestro tiempo. Una crónica. (Madrid, Ediciones Encuentro, 2021)
"El nuevo realismo y la relación entre la verdad y la certeza" (En: Diálogo Filosófico, No 110, 2021, pp. 195-220)
"On the Hidden Roots of our Time. The Secret Thought of Heidegger's "Black Notebooks" (En: Di Martino, C. (ed.), Heidegger and Contemporary Philosophy. Technology, Living, Society & Science, Springer Nature Switzerland AG 2021, pp. 231-250)
Il pensiero meta-trascendentale dell'evento. Heidegger anni Trenta-Quaranta (En: A. Ardovino & V. Cesarone (eds.), I Trattati inediti di Heidegger. Temi, problemi, bilanci, prospettive. Mimesis, Milano-Udine, 2020, pp. 53-69)
"Vivere il mondo, vivere nel mondo. Agostino in Heidegger", (En: Bollettino Filosofico, No 35, 2020, pp. 180-197)
"Kant" (En: Berti, E. (ed.) Storia della metafisica, Carocci, Roma 2019, pp. 221-250)
"La teologia politica di Francisco Suárez". (En: Quaestio, No 18, 2018, pp. 355-363)
"Una volontà senza libertà? Sulla natura della 'potestas divina' e della 'potesas umana' in Francisco Suárez" (En: Quaestio, No 18, 2018, pp. 405- 429)
Es fundador y director de la revista internacional Quaestio. Anuario di storia della metafísica, y de la serie de estudios y textos Biblioteca Filosofica di Quaestio y Ad Argumenta. Quaestio special Issues. También es miembro del comité editorial de Heidegger Studies, Viator, Dilthey Jahrbuch, Studia Neoaristotelica, Giornale di Metafísica y Rivista di filosofía.
Sus investigaciones han estado centradas en el pensamiento de Heidegger (principalmente en la relación fenomenología-ontología, el problema de la historia, el nihilismo y la lectura heideggeriana de Kant, Schelling y Agustín de Hipona), la filosofía de Kant (particularmente la relación entre criticismo y metafísica) y la obra metafísica de Francisco Suárez (enfocándose en la transición entre escolástica y ontología moderna). Asimismo, ha traducido y editado textos de Immanuel Kant, Martin Heidegger, Francisco Suárez, Jean-François Courtine y Friedrich-Wilhelm von Herrmann.